This is the post for the week of Monday, November 30, 2015 class meeting.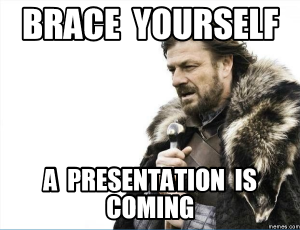 Today's post covers your presentations, submitting your remix, and taking the final exam. Today is the last day you will have to work on Project 4 in class. After today, class sessions will be devoted to presentations of Project 4. I will not hold office hours today, so that I can go to the doctor.
PSAs
Presentations
Preparing Your Presentation
In-class presentations of Project 4 will take place from Wednesday, 12/2 through Wednesday, 12/9. The presentation page includes details on what you need to include.
You may prepare a slideshow about your project and/or show the project itself. The remote control clicker usually works with PowerPoint, Google Slides, and Prezi. Unfortunately, however, PowerPoint sometimes crashes on the Mac teacher station. Use Google Slides if you can.
Use what you know about multimodal composing to create a strong presentation. An average presentation would include screens full of text and lots of reading off of the screen or your notes.  A stronger presentation would use  the 1/1/5 organizational strategy (using no more than 15 slides to fit into the 5 minute timeframe). 
The Night Before Your Presentation
Submit the link to your presentation in the "Remix Presentation" assignment in Canvas by 9 PM the night before your presentation time slot, so that I can set up the post for the day's class. There is no grace period for presentations, and there are no make-up presentations.
During Presentations
Please be polite and pay attention to your classmates. Provide positive and/or constructive feedback.If you are absent or not being respectful, you will lower your presentation grade.
Submitting Project 4
Follow these instructions to upload your work, add the reflection comments, and submit your work. The grace period for the project ends at 11:59 PM on Wednesday, December 9 (the last day of class).
Go to our course in Canvas.
Choose Assignments from the left sidebar.
Choose "Project 4: Remix a Story."
Click the big Submit Assignment button on the upper right. You'll see this submission form:

Paste the URL to your remix in the Website URL box.
Type your reflection comments in the Comments…box (indicated by the orange arrow):

Tell me what grade you aimed for (e.g., I aimed for a B+ by including headings and …..).
Explain how you incorporated risk into the project.
Share anything else you want me to know before I grade your project.

Click the Submit Assignment button, and your work will be turned in.
Final Exam
Submission Dates
Official due dates:
10:10 course: Due by 9:45 AM on Wednesday, 12/16
11:15 course: Due by 5:25 PM on Monday, 12/14
End of Grace Period: If you need additional time, submit your final by noon on Wednesday, 12/16. If your work is not in by noon, you will receive a zero. Because I have to turn in course grades, I cannot extend the grace period beyond noon on the 12/16 unless you have a letter from the Dean of Students indicating extenuating circumstances.
Assignment
Your exam is a take-home, and it will consist of creating a revision and sustainability plan for your online portfolio site.
---