This is the post for the Monday, September 14, 2015 class meeting.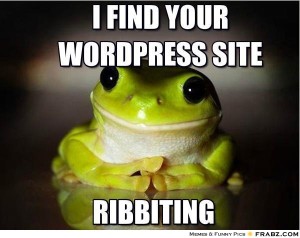 Today we're diving into WordPress and learning about some of the features built into the publishing tools. By the end of today's session, you should have created a WordPress site.
Creating Your Site
If you want to create a blog on a site other than Blogs@VT, hop to it. You are free to work at your own pace. Otherwise, follow along as we complete these tasks:
Remember that your blog will be public, so think of a URL and a professional name that you can share with the world.
Choose one of the following options, depending upon whether you have used WordPress.com before:

If you have never used Blogs@VT before, sign up for your own blog.

Enter a Username and Email address. Leave "Gimme a site" marked. Click the Next button.
Choose the Site Name (which cannot be changed) and Site Title. Leave everything else at the defaults. Click the Signup button.
Go to your vt.edu email address, find the activation email, and click the link inside to finish setting up your blog.
Setting Up the Basics for Your Site
Go to the Users tab on the left and then choose My Profile to update your profile and login information. You can change the way that your name is listed with each post, for instance. You can also change your password on this page.
Go through the Settings tab and update the information. In particular, be sure that you

Go to the General setting and fix the timezone. You can also change the Tagline here.
Go to the Discussion setting and decide when you want the site to email you.

Don't worry about the appearance of your site for now. We'll work on that Wednesday.
Creating Your First Page
Temporarily change the sidebar so you can get to your page easily later:

Go to the Appearances tab on the left and then choose Widgets.
Under Available Widgets (on the left), find Pages and drag it into the Widget Area.
Click the Save button. Now your Pages will show up in the sidebar. We'll remove this later and create Menus.

Create your Site Information Page:

Go to the Pages tab on the left and then choose Add New.
For the "Enter title here" field, use the title "Site Information." You will be able to change it later.
Click on the Text tab if you want to code your own HTML.
In the body, tell readers about the name and tagline you have chosen for your blog, any other decisions you made, and anything you are considering or hoping to do. This is just a first draft. You will update the page later.
Click the Publish button in the right sidebar to save your page and make it live.
Go to your blog's homepage, and click the link to your Site Information page in the sidebar to check your work.
In-Class Writing
Go to Quizzes in Canvas and choose the "WordPress Site Address" quiz to post the address of your WordPress site. I will use the link to check that you have your blog created, and to set up a megablog (sometimes called a motherblog) that includes everyone's updates.
Homework
For today, please do the following:
If you didn't complete your "WordPress Site Address" quiz in Canvas, please use the grace period to finish by 5 PM Tuesday (9/15).
For Wednesday's session (9/16), do the following before class:
Outline your site, either on paper or using something like Word. Account for the following in your outline:

The menus you want to have, and what kinds of information will go under them.
What will appear on your homepage (Will it be static or changing? Lots of images or lots of words?)
What artifacts of your work/qualifications do you want to include?
Features you saw on the sites you gathered as examples.

Continue taking (or finding) photos you can use to illustrate your blog. We'll go over how to upload and insert images on Wednesday.
If you need help, try the WordPress Documentation and FAQs. Try contacting 4Help if you need additional help outside of class. Also remember that you can use the step-by-step WordPress Tutorials & Training at Lynda.com.
For Friday's session (9/18), do the following before class:
Have whatever you need with you to spend most of the class period working on your blog.
For Monday's session (9/21), do the following before class:
Read Chapter 1 of Writer/Designer so that you are familiar with the terms we're using in class as we discuss multimodal projects and how the modes of communication apply to your portfolio site.
---